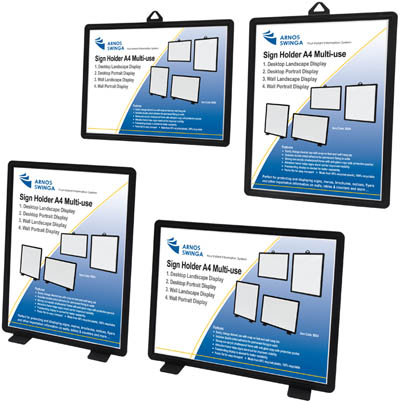 ARNOS Launches Australia's First Green Multi-use 4 in 1 Sign Holder
Arnos continues to innovate and release unique new office products.   The latest edition to the Arnos range is one of the most versatile sign holders available.  This single new product can replace up to 4 traditional sign holder product SKU's.  The Swinga Sign Holder features a convertible design that can be used as a freestanding display in landscape or portrait orientations or a wall mounted landscape or portrait display.  Easily change desired use at any time with the snap on feet and wall hang tab or self-adhesive fixings.
The sign holder has a strong non-acrylic shatterproof frame with an anti-glare copy safe protective pocket.  The attractive frame helps signs stand out for improved visibility and the freestanding display is angled for better viewing.  The product is flat packed for easy transport and is made from 50% recycled plastic and is 100% recyclable.