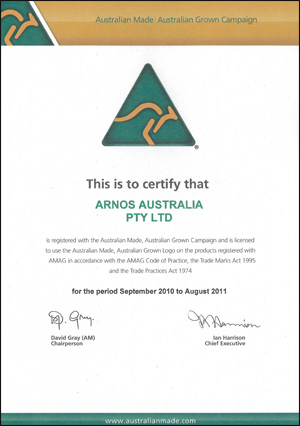 Arnos Promoting Australian Made
Arnos has been manufacturing office products in Australia for over 65 years and continues to make a range of quality Australian Made products for the office. Arnos has renewed its partnership with the Australian Made Campaign to display the highly recognizable Green and Gold Kangaroo Australian Made logo on the entire range of Australian made office products.
The Australian Made logo indicates a sign of manufacturing quality and helps support the local economy by allowing people to instantly recognize and purchase a locally made product. The logo can be found on the retail packaging of popular Arnos products including the Arnos No.3 Fastener, Flippa Visual Display Systems, Versa-tidy and Rack of Steel organisers, Tubefast file fasteners and Hang-A-Plan filing systems.