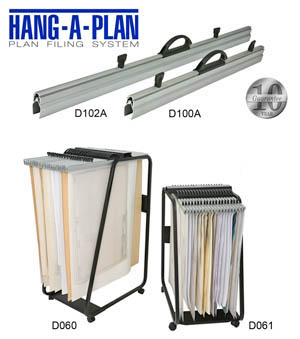 New Range of Economical Hang-A-Plan Plan Filing Systems
Arnos Australia has introduced a new range of low cost economical Hang-A-Plan GENERAL Plan Binders or clamps for use with the popular range of Hang-A-Plan Front Loader Trolleys and Wall Racks.  Hang-A-Plan GENERAL binders offer the same high quality Australian design and construction at unbeatable low prices.  The new binders have been developed to provide a more economical choice to budget conscious users without sacrificing on quality or strength.
GENERAL Binders feature a superior strength 3-part anodised aluminium clamp, strong re-enforced composite wing nuts, comfortable cantered carry handle and self-adhesive index labels.  The binders are available in two sizes, A1 (D100A) and A0 (D102A), are locally made in Melbourne, Australia and come with a 10 Year Warranty.
General Binders are compatible with all Existing Hang-A-Plan Premium and General Front loader Trolleys and Wall Racks.
What is Hang-A-Plan?
Hang-A-Plan Vertical Plan filing systems are recognised as one of the easiest and most efficient ways to organise and store plans and drawings.
When using a Hang-A-Plan system, your plans are easy to store, access, view, file, retrieve and transport.  Compared to flat storage systems, Hang-A-Plan will save 80% on floor space and will cut filing time by 75%.   Hang-A-Plan systems allow you to categorise and index groups of plans on binders that are stored vertically on easy access Front Loading Trolleys or Wall Racks.
To find the closest Hang-A-Plan dealer, call Arnos on 03 9583 2254, free call 1800 635 216, or visit www.arnos.com.au and click on distributors.